ice-cream-showcase.com
products
.
Description and features of ice cream showcases, display, cabinets, ice cream freezers, ice cream cart with images, pictures and technical details
like temperature controller and more about these equipment.

Just after the navigation menu' you can see all our products divided from category, from nice view ice cream showcase till ice cream freezers. Please scroll down the page and follow our suggestions. We just improve our collection of ice cream display with some quality ice cream showcases from Italy. Luxury items for top end places.

Welcome in Product page. Navigation menu':
Click here for ice cream or go on reading for "Ice cream showcase products":
for an easy understanding of the production here a classification:
Ice cream and gelato showcase as investment from Italy
Professional big show cases with more than 16 flavors
Professional small showcases with less than 16 pans
Promotional ice cream display usually till 9 or 10 flavors
Show ice cream freezers
Stock freezer
Ice cream Cart!
Offer
Check our prices in the catalog page
1► Thinking about an ice cream showcase as investment it is possible. There are luxury items made in Italy that should be consider more than a showcase but as a real investment in the ice cream business. When you think about a top end place or even a normal ice cream shop you need to think about many things and also about image, the furniture, about the feeling to transmit to your customers and about your competitors. Here you can condense all of these thoughts in one single idea: a gelato showcase that will let disappear your competitors images. The display of this kind of equipment in your ice cream parlor will place you in a hi so environment. Yes, the prices are quite high for these kinds of goods but you can save in the rest of the furniture and the return of your clients will satisfy you.
2► This kind of display is for a gelato parlor or ice cream shop that sell ice cream only, maybe also some other refreshments like coffee or soft drinks. To have a good economic return we suggest you to place this equipment in a crowded mall or shopping center, a walking street, in front of a big school complex like university or college compound, really close to a crowded beach or in Italy! Italy is full of big show cases called "vetrine gelato" as is part of the Italian culture to stroll around in the city and stop for an ice cream. Here in Thailand the gelato culture is on the move but not all places are ready to satisfy the sale need of a big ice cream shop but if you will be the first then you'll be able to cut off the competitors. This showcase cannot be put in a non air-conditioned environment like a normal ice cream freezer.
---
3► This is a more versatile option as the smaller investment can worth even if the shopping center or the location is not so crowded. We suggest you to combine with a coffee corner and maybe some bakery or even sandwiches. Another vantage of this display is that you don't need a truck with a power gate but a good pick up will be good enough for the transport. With some extra care this equipment can be placed also in a non air-conditioned location but the temperature doesn't not be more than 30 Celsius degrees.
---
4► The promotional display are small showcases that give a good visual with small size. Easy, more economically affordable is good for a corner in a Hotel, resort or even a restaurant. Also a small booth can be set up with only one promotional showcase. If you think about a ice cream shop the promotional type is not enough.
---
5► The ice cream freezer or show freezer is perfect for a restaurant where the ice cream are sold on the menu' as an extra, for a micro enterprise that want to test the market with a really small corner sale and in a nice villa... or even in a nice and big ice cream parlor plenty of comfortable seats that use picture instead direct show the ice cream like Swensen's or Basking Robbins or others that use ice cream freezer (many kinds) instead of Italian style showcases.
---
6► The ice cream freezer without the top glass is a stock freezer is a must. Don't even think to keep the show case on duty 24 hours. The energy that you will use will pay you back the stock freezer in few month. More over the gelato and sherbet that you have will have a short show life due to the ventilation of the showcase. Often we give the stock chest freezer in free use depending on the amount of ice cream you purchase, check more in the ice cream page
---
7► With the ice cream cart alone you can start a successful business. The image of the ice cream cart attract customers even better than a big showcase. Ours ice cream carts are not suppose to drive around the city to sell ice cream. It is a decorative cabinet to put in front of your shop to dramatically increase the sale of ice cream or as a stand alone point of sale in a shopping center.
---
8► Offer: Sevel 12 flavors ice cream showcase from exhibition: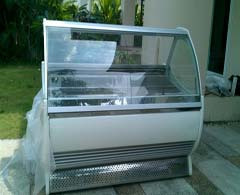 Buy it now!
You can also check the special offer and promotion page
9► You can see all the actual size available on the catalog page
---
Some features and technical notes. Why it is not easy to create an ice cream showcase or ice cream display? It is a physical problem. The cold, the cold air, tends to fall down. Like in the small home refrigerator the small freezer area from where you can get the ice cube is locate at the top of the fridge and then the area with a less aggressive cold, for the fresh fruit and vegetables, is in the lower part when the cold air, during its fall, cool up al rest of the element contained in the refrigerator. But if we want to give a nice visual of the gelato we have to put it as much as possible in the higher part of the showcase and the evaporator, that transmit the cold in the air of the refrigerator, in the lower part. We must now artificially force the cold air from down to up with some fans. This unnatural movement of the air has to be well projected. Beside the architecture of the case there is also the refrigeration system itself. We use a simple refrigeration systems based on gas R404a but with quality component.
produce hot temperature when it is not necessary
useless more hot input from the glasses to the showcase in a sub zero environment
Moreover the defrost can easily set on automatic choosing the interval time between defrost or setting on manual so the operator will ask a defrost when necessary (recommended).
Yes you can ask our operator more technical information
Author: Kittiporn Nantanon Contact at info@ice-cream-showcase.com
---
Taxonomy: Business & Industrial > Advertising & Marketing > Trade Show Displays.
Business & Industrial > Retail > Retail Display Cases.
Or Showroom > Service Equipment > Store & Supermarket Supplies > Refrigeration Equipment > ice cream showcase.