ice-cream-showcase.com
Open an ice cream shop
. How to open ice cream shop, suggestion, turn key solution about the ice cream and Italian gelato business in Thailand, ice cream business plan. Creative and sweet enterprise without the need of millions baht of investment.

Sketches, ideas, tips for your present or future shop, store, ice cream parlor, booth or little kiosk. Even with homemade or more full self production. We invite you to contact us for more information about ice cream shop and business. You are now in the
www.ice-cream-showcase.com/ice-cream/shop-and-business.html
page. you can read about ice cream shop and business or jump to the
ice cream franchising
section.
Welcome in the ice cream shop page. Navigation menu':
New offer!!! Open your shop now! Watch this video here or the full long version at ice cream business youtube.com and also the second video at youtube ice cream again of course. Or look our promotion-pictures down here
Micro ice cream shop at 49,000.00 baht, a full set ready for you Contact us for this offer so you can open your ice cream business now: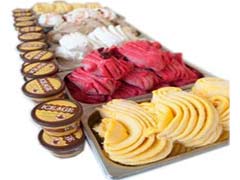 Ice cream freezer Ice Age
Plain white cups (100 pieces) to serve your ice cream to your customer, we can also combine some cup and one line of sugar cones (25 pieces) if you like
Full load of ice cream and gelato (45kg of gelato) and some premium Ice Age cups (1kg, 12 cups)
Menu' table cards, menu' stickers, flavors labels assorted
2 scoops
Delivery
All together at only 49,000.00 THB (Thai baht). About your investment you have to think that in this price is already included some gelato. The average sale of gelato is 50 baht a scoop. If you will sale at 40 baht per scoop you will also generate a cash flow income of minimum 22,000.00 baht so your real investment will be 27,000.00 baht only.
Or you can also choose the more inexpensive Dolce Latte brand solution:
---
Or maybe you can check also this promotion: the 49,000.00 baht Future Shop offer: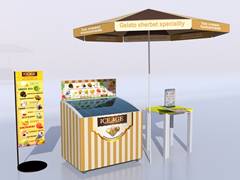 Future Shop promotion
With this offer you will get:
One ice cream freezer to sell ice cream Ice Age
One decorative umbrella with Ice Age name
One advertising flag Japanese style with a small menu'
10 Acrylic standing ice cream menu'
10 Table menus
10 Ice cream flavors label 1 set
Ice cream gelato Ice Age 45kg
How to start the business with this offer?
You just have to contact 021708640
Please contact us as soon at info@ice-cream-showcase.com or call Tel. 021836880. Condition: if you will not sale Ice Age brands ice cream you have to remove the brand and stickers from your freezer and adds. Thank you.
More promotions:
The 25,000.00 baht offer Delight promotion:
This promotion include:
One ice cream freezer to show ice cream gelato Ice Age
10 Acrylic standing advertising
10 Ice cream flavors label 1 set
10 Table menus
The 15,960.00 baht Smart promotion:
This promotion include:
One ice cream freezer
10 Acrylic standing advertising
10 Table menus
A complete small ice cream shop in a booth.
We create for you: you can delegate us to create a turn key solution in ice cream business: small shop, booth or big ice cream parlor. Contact us for this ice cream franchising solution to info@ice-cream-showcase.com.
The price of the example is 499,000.00 baht.
List of the items included in the offer:
One showcase Compact 12
One furniture with round top in wood
One rooftop
One side walls, stainless bars and small wall in the back
Two scoops
Seven down light
Ten acrylic menu'
Ten table menu'
One acrylic support for offers
One LED ice cream light
One rigid poster
One flexible poster
One wooden logo Ice Age
One training in serving and suggesting ice cream to customers
One small sink
All together is
499,000.00
baht including delivery and installation if in Bangkok or Pattaya. To other destination we have to produce quotation.
Note: all not specified in this ice cream franchising offer is not included, for example but not only, the fixing of the shop: floor, water piping, electric wiring, windows, chairs, tables, drinks refrigerators and more. Contact directly so we can explain better our offer. We have good English speaking and Thai.
Ice cream and bakery: if you think that ice cream is not enough or the area where you are thinking to open your ice cream shop doesn't have enough customers to produce a good income only with ice cream you can add bakery. Frozen bakery is easy to serve and it is always fresh as the stock is frozen and can be stored in the lower part of the ice cream freezer. We also have a solutions for ice cream and bakery:
One small show case for cakes and tarts
One ice cream freezer where also stock frozen bakery
One oven
Furniture 2.5m long
One sink
One table for simple preparations
One outdoor sign
two small table set with 4 chairs for customers to seat
Some paper Menu' and acrylic price list
One scoop for ice cream or gelato
Basic tools for pastry and bakery serving
Three days training in Ice Age Co., Ltd. in Bangkok BKK
Basic outdoor fittings
One full load of ice cream: 20 gelato boxes of 3 kg each!
Note that all is not in the list is not included like the fixing and decoration of the shop and more. You can deepen the bakery topic by calling 021708640
If you want to discover some more accessories for your ice cream shop, visit the accessories page.
To get started with an ice cream business or gelato business (in Italian), all you really need is a place. Well, maybe also some money, time, and help. Start your own ice cream business, we can provide almost everything is necessary for. The entire ice cream world is just so well set up to provide you an easy way to start your enterprise. The sweetness of the ice cream or gelato are also so welcoming and is agreeable that you can just open and start the sale without much of problems. Remember not to cut off the power in the night or your ice cream will melt!
As the kids reward the ice cream shop in a spontaneous way, also the grown up like to spend time in a gelateria. Gelateria means ice cream shop in Italian, where you can sit and taste a nice coppa gelato (ice cream cup) and of course choose between different flavors of gelato and sorbetto (sherbet). In a crowded street, in a shopping center, at the end of a Soi, close to a minimart, Seven Eleven, Family Mart or a market, you can experience unique aspects of the selling of ice cream. Whatever is your style in choosing colors, appliance and furniture ice cream can go along with any style you like and satisfy most of the customers.
Watch this video with suggestion in how to open an ice cream shop: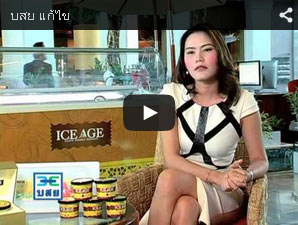 The best time to open an ice cream shop is now as you just bounce in our website. It is also an healthy business as sherbet are low fat and yogurt gelato is very good for your health.
The profit in ice cream business
Article by the CEO of Ice Age Co., Ltd.
The profit in ice cream business is an average of 100%, 200% if you produce yourself. This means that you buy the ice cream and then you sell it at double price.
There are basically 2 kind of ice cream or gelato production: low price and normal price. Of course then you also have the overpriced products that you can find in a top end hotel or some very unique clubs, restaurants or locations. Thinking about a simple ice cream business the low price or low cost ice cream is the kind of product that you can find in minimarket or from walking cart/bicycle. This kind of industrial production use combination of low cost oil, milk powders and aroma. You can buy for less than 4 baht per scoop and sell it from 10 till 20 baht per scoop depending on eventual toppings or also depending on your place: how attractive is, how famous is, where it is located. The price and the margin or profit in ice cream can also increase if you combine the scoops in a nice sundae as then you can charge more.
Going up a bit in the price range there is the Italian ice cream style gelato that is made from real fresh milk, real fruit or real cocoa powder, vanilla beans or other real products with an add of whipped cream to increase the taste and the texture instead of palm oil and other cheap raw materials. This kind of ice cream it is more costly, about 20 baht per scoop and must be sell for 40 to 60 baht per scoop.
After a scrupulous forecast of your customer target and an imaginary daily cash flow you can prepare your business plan considering, for a small ice cream shop, these references:
Rent 25,000.00 baht
Labor 20,000.00 for 2 persons
Utility 5,000.00 (electric, water)
Consumable materials 3,000.00 (napkins and other accessories)
Office maintenance 2,000.00 (papers, pens...)
Others 3,000.00 baht
Total for a small shop with 2 staff and you is 58,000.00 baht
Monthly
. That means that you have to sell 116,000.00 baht in ice cream if you just sell ice cream for the break even. When you sell scoops at 40 baht you need to sell 2900 scoops per month that is equal at 96 scoops per day alias:
96 ice cream scoops (nice ice cream scoops not the little one) * 80gr = 7680gr; it is circa 8kg per day that is not even 3 boxes per day!
Then you will have more income from drinks, coffee and also bakery if you have it. So, when will you open up your ice cream store? There are also distinct kind of business in this field:
Luxury ice cream business: thinking about something luxury for ice cream and gelato we have to think about something extremely HI SO. It is not enough a nice place with excellent and good trained staff. The competition in top end desserts and treats is strong. To be different from the others you need something special. An ice cream showcase from Italy could be what you are looking for. Of course the price is much higher but you have to see it like an investments. The quality of the product can last many years, the perfect visibility of gelato and ice cream improve the sales, the image of this made in Italy item will confirm you as leader in the ice cream business and will degrade your competitors that cannot afford it. Just image to compare your gelato shop with this kind of showcases with another ice cream place without them. Other places will looks like kids playgrounds. In some how it is also good to look like a kids place as children like to eat ice cream but if you want to target a different market like customer of 5 stars hotels or well known personality the design and elegance will be a must without forget a small kids thought like a teddy bear or some toys. A little corner, simple, a sign, a doll on a chair could be enough. You will be able to give to your customer a special feeling. They will come back.
Big ice cream Parlor: you need a big space and it has to be in a well known street or a busy road, you must have lots of parking places for cars and motorcycles except if you are in a shopping center. You have to set up 3 teams to cover long opening hours. You will need a good design of the shop to give a nice ice cream gallery impression, some experience in contact with customer, in any field not necessarily in the ice cream field and also need a substantial investment as probably you will also produce not only ice cream but also bakery to sell along the coffee.
Ice cream shop: you need a comfortable space, not necessary too big, about the location you can choose any as in this case the investment is lower. Few staff to help you will be enough.
Ice cream booth: this can be a great adventure. You can earn lots of money in short time or you can even close down in a short time. The trick is to understand the potentiality of the location. You need a very small place in a shopping center, few sign, a pleasant menu and you will start to sell cones and cup to the people. I understand that the rent in a crowded shopping mall can be high so you have carefully evaluate the opportunity.
Ice cream kiosk: here the location is in your hand. Maybe you own a little corner or a empty shop o a small land close to a street, maybe even close to a big school complex or university. Then you can set up your small shop without spend too much and see how it will be.
A showcase in a shop: let's say that you already have a business, a shop. So you want to improve your sale and cash flow. A small showcase can be the solution for you. In a corner of your store you can place an ice cream display, a nice sign with a clear menu' with prices, some inviting pictures and images of ice cream, cups and cones and you can start to improve your daily sales. Let us design it for you.
In a hotel: an ice cream showcase in a hotel is a must. In the food area or even in the lobby or near the reception is an easy way to implement your service to your customer. Usually people on holiday have some spare time so they will be more than willing to enjoy a nice gelato and spend some times.
Franchising and turn key solution: don't hesitate to contact us, explain your idea and we can go along with you with detailed quotation and no trouble solution, we can open up your shop for you deciding together what is best and what you like.
Soft serve business: this kind of business is pointing to exhibition, fair, parties and where lots of people. Extremely easy, few appliance and you can start to produce and sell on the spot. The only limit of the soft serve is that what will you not sell in the day cannot be store without change the quality of your product. But this is not a problem as you can produce following the sale flow.
In any of the above cases we can provide the necessary, the consults, the ice cream, the showcases, the price list and other accessories you may need. Our quality is well known as you can see from our customers. Just go in some top end hotel...
Ice cream business: how to use it
Tips for well maintain and manage an ice cream shop. A brief description of routine daily operations that occur in a ice cream shop
Opening the shop
You need a well advance before the standard opening time to set up all you need for a nice business day in an ice cream shop. 1 hour is the minimum request if you decide to open alone and allow your staff coming right at opening time:
Cleaning the showcase with wet towel and wait to dry
Turn on the showcase and wait at least 30/40 minutes to reach the temperature of -15 Celsius so it will be ready for the gelato
While waiting for the showcase to drop down the temperature look around for some dirty spot forgotten the day before
Move the ice cream or gelato from the stock freezer in to the showcase, trying to adjust the shape and the decoration before positioning in the showcase
Check all the silverware and accessories necessary to serve the ice cream: spoons, scoops, small forks...
Prepare the toppings to be easy and ready available
Check the tables and accessories on the tables: napkins, price list, promotional cards...
Welcome the staff and brief them on the past day errors and the new days expectation and new ideas
If eventually somebody did book a party in your ice cream premise check that all the necessary is in order
Open and start to greed customers (if any...)
During the day arrange the staff so there will be always somebody to greet customer: never let the customer feel unimportant or even worst unnoticed!
During the day check the availability of the flavors, make sure you have all the ingredients of the sundae that are present in your menu': never say "no have" to a customer!
Check the presence of napkins on the table, the cleanness of the premise and the smile of the staff. people don't go inside an ice cream shop only for the gelato, they also want to have some good times
When it is time to close turn off the showcase or showcases, move the ice cream inside the freezer, clean all the shop beside the showcase that needs time to melt down during the night. Just remove eventual big pieces of ice cream that stick around the showcase
Make a tour all around your ice cream shop to see if there are some dirty spots and check that all the food, toppings are not spoilt or out of date
One more note: beside the fashion, choose light color, almost white, for the staff uniform. This is mandatory by the law in Italy: food attendant must have white or light colors uniforms
If you want you can contact our department for ice cream business and shops at 021708640.
More income:
once you will have your ice cream shop or if you already have it and you want to increase you income, you margin so your profit too, you can start to produce gelato by yourself. It is not so difficult. Beside we organize some gelato and ice cream professional course, you can also start by yourself with ready mix and paste. You can buy the ice cream you need as usual and start to produce one or two flavors only and then slowly go on with your personal production and add more and more flavors. If you produce yourself the margin will increase giving happiness on your job.
Ice cream business production
Offer and explanations on how to create an ice cream business that include production as well.
A Econo basic Make your own gelato, store and sell it in a extremely easy way:
Ice cream machine imported from Italy for 6kg each cycle (batch) with of top time of 10 minutes
Immersion mixer to perfectly blend your ice cream and gelato preparations, imported from Italy
Assorted powders to be mixed with milk and or water, whipped cream
1 freezer with canopy to show 9 flavors
1 Stock freezer
B Basic deluxe Make your own gelato, store and sell it with a touch of class in a extremely easy way:
Ice cream machine imported from Italy for 6kg each cycle (batch) with of top time of 10 minutes
Immersion mixer to perfectly blend your ice cream and gelato preparations, imported from Italy
Assorted powders to be mixed with milk and or water, whipped cream
2 showcases (Italian company assembled in Thailand) one for gelato and one for sherbet
1 Stock freezer
C Pro easy Make your own gelato, personalize the taste and create some signature flavors enriched with fresh ingredients and fruit and enchanted with special gelato paste, store and sell it in a simple way. Only three days of dedicate training:
Ice cream machine imported from Italy for 6kg each cycle (batch) with of top time of 10 minutes
Immersion mixer to perfectly blend your ice cream and gelato preparations, imported from Italy
Precision digital scale
Assorted powders to be mixed with milk and or water, whipped cream
Assorted paste to include in your ice cream
2 showcases (Italian company assembled in Thailand) one for gelato and one for sherbet
1 Stock freezer
3 days training only for you not in a class
D professional gelateria Make your own gelato and ice cream in a sensible quantity when request, personalize the taste and create some signature flavors enriched with fresh ingredients and fruit and enchanted with special gelato paste to include already in your pasteurization process, store and sell it in a professional with a great visually striking and Hi-So image:
Ice cream machine imported from Italy for 15kg each cycle (batch) with of top time of 10 minutes
Pasteurizer from Italy for 120 liter of milk
Immersion mixer to perfectly blend your ice cream and gelato preparations, imported from Italy
2 precision digital scale
Assorted powders to be mixed with milk and or water, whipped cream
Skimmed milk Powder and pure emulsifier for your flavors research and to get better result from your ice cream creation attempts
Assorted paste to include in your ice cream
2 showcases (Italian company assembled in Thailand) one for gelato and one for sherbet
1 Stock freezer
5 days training only for you not in a class
All the above offer should adapted to your single situation, location and idea so it is premature to insert a single o total price as too many factor can affect a quotation at this stage.
Anyway do not hesitate to contact us for a introduction of cost if you want to start a business in the ice cream field. You can even call directly the operation manager: Massimo 0822573592.
Content by Kittiporn Nantanon
Ice cream franchising Ice Age. Ice Age bring Italian gelato making ability in a Thai way and also in an easy exportable "franchising package".
The concept is to create something EASY. Easy for the franchisee, easy for the customers. In an Ice Age ice cream franchising the customer will enter not only an ice cream food reality but a place where to laid back, talk, spend time with no hurry, taste and enjoy ice cream. The places will be cozy, quite. The choice will include, beside ice cream, honey toast, chocolate cakes, coffee, tea, soft drinks.
The importance we give to the values of quality and coziness are the fruits of the experience of years in this sector. We discovered that out of the Italian reality people eat ice cream not only for the taste but also to have a momento for themselves, alone or with friends. So we focus on taste of course but also on hospitality
The freedom that our franchising agreement will give you is one of the most open franchising available. We will be strict on quality, ingredients and production protocol but once the franchisee understands the above concept, we will act as audit only giving them the freedom in choosing furniture, design and layout of the outlet. This is a help as the franchisee is on the spot and he will know better than us the needs of local customers and for all customers the feeling will be different than a plastic replica of existing outlet, will be a signature place any place. And can also be a saving for the franchisee.
The freedom of not to be constantly under monitor for the royalties. We have a fixed yearly fee and accessories costs for services on request.
The training is something that we consider important. We will arrange training section in our factory in Bangkok and eventually also in the franchisee facility. The technical assistance is also a constant in our program.
More income: with the possibility to choose between sell ice cream and produce and sell ice cream you can increase your profit and create an authentic enterprise reality that can have a future not only depending on the humor of the franchising.
Some images from our last franchising training. Opening a new shop in Bangladesh.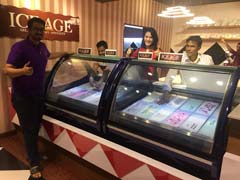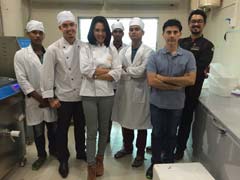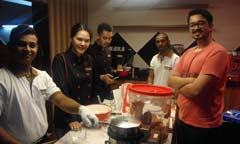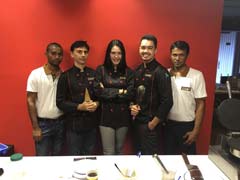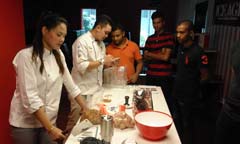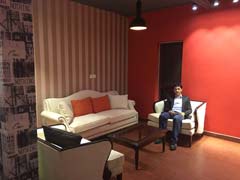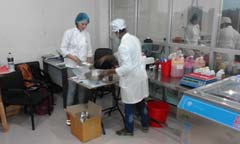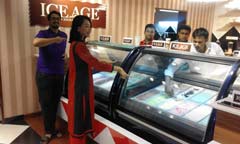 Ice cream Bangladesh: www.iceagebd.com and see it Google map too.
Contact at info@iceagethai.com